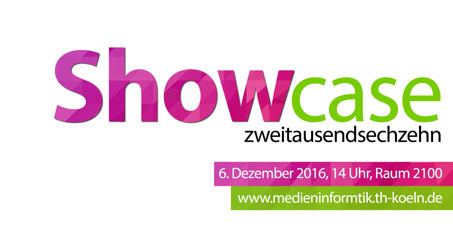 Am Dienstag dem 6. Dezember findet das alljährliche Medieninformatik Showcase statt. Es werden allerlei Projekte des letzten Semesters vorgestellt. Des Weiteren finden zwei externe Sprecher ihren Weg an den Campus Gummersbach: Manfred Kraft, Creative Engineer bei Scholz & Volkmer hält einen Vortrag über "Creating Shared Value am Beispiel von Radwende (https://www.radwende.de/de/)". Sebastian Busch, ehemaliger Bachelor- und Master-Absolvent der TH Köln, heute tätig als UX Architekt bei Chefkoch.de hält einen Vortrag mit dem Titel "Finding a job that makes you happy – Reisebericht eines UXlers".
Unter den Projekten, die dieses Jahr an dem Showcase teilnehmen, sind auch welche, die im moxd lab entstanden sind. Dabei ist ein Projekt aus dem WPF Internet of Things mit dem Namen Coffeefy von den Studenten Alexander Thürling, Vanakh Chea und René Honnen. Ebenso vertreten ist das Praxisprojekt Mobile XCP von Dustin Baron.
Der Zeitplan für den 6. Dezember sieht wie folgt aus:
13:00 – 14:00 Uhr Vorträge im Raum 3.216 (Medieninformatik Studio)
14:00 – 17:00 Uhr Ausstellung der Projekte im Foyer
16:00 – 18:00 Uhr Filme im Raum 3.216 (Medieninformatik Studio)
Ein Vorbeischauen lohnt sich!